Located only twenty kilometres south of the Luxembourg capital, Dudelange is now the fourth largest agglomeration of the countrywith an area of more than 21.3 km² and a population of 21,087 inhabitants as of 1 January 2019. A former steel town, this urban jewel has now completed its conversion with success thanks to the enhancement of its natural surroundings, the revitalisation of its commercial life, the diversification of cultural leisure activities, a multiplication of sports infrastructures and large-scale responsible projects. Focus on the assets of a municipality that is as respectful of its environment as it is resolutely modern.
A Strategic Position
Located in the south of the country, Dudelange belongs to the district of Luxembourg and the canton of Esch-sur-Alzette. At the crossroad of many opportunities for its inhabitants, this Luxembourg gem is located about 20 minutes by car from the centre of the capital, 10 minutes from its neighbouring city of Bettembourg and 20 minutes from Remich, the "Gemof the Moselle". Thanks to this geographical location, its inhabitants can benefit from an access to major motorways, to an extensive train networkand to several bus lines.
To learn more about mobility in Dudelange, Luxembourg, visit the city's website >
These are significant assets for this municipality, which attracts citizens from all over the world looking for a house or apartment to buy in Luxembourg. Its foreign inhabitants now represent nearly 40% of the local population and include more than 100 nationalities.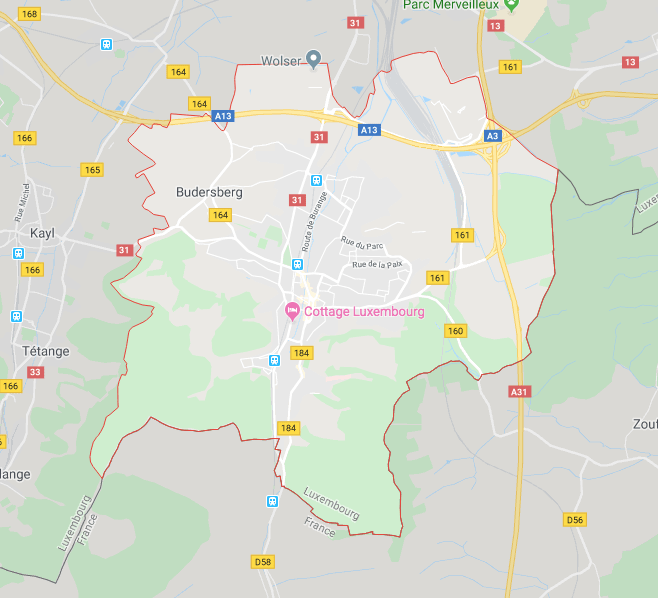 An Urban Environment, Nestled in a Generous Natural Setting
Dudelange combines urban comfort with the pleasures of nature. Indeed, the municipality shares its territory with 24.2% of forests and 18.3% of arable land and grasslands. A green and luxurious environment that allows its inhabitants to enjoy magnificent hikes in the HaardNature Reserve,a protected natural area.
Are you looking for an accommodation in Luxembourg in a natural setting?Discover Dudelange, the city that "looks like the South",the city where it feels good to live.
Find out more about rents in Luxembourg and in Dudelange >
An Exemplary Green City
The municipality of Dudelange promotes its natural surroundings through responsible initiatives such as the creation of bike paths, mountain bike trails, a secure bicycle park, anetwork of free and self-service electric bikesand a participatory garden that allows everyone to plant, grow and harvest fruit and vegetables in a friendly atmosphere.
Concerned about the well-being of its inhabitants, Dudelange also provides its citizens with numerous green spaces, among which Parc Emile Mayrisch and Parc Le'h.
Significant advantages for responsible citizens looking for a house in Luxembourg.
Find our ads on:
Dudelange, a Stable Anchor for High-Performance Businesses and Services
An Attractive City for Companies
Today, Dudelange hosts more than 700 companies, mainly specialized in the tertiary sector.
In total, about 80% of the working population is employed, 13% are civil servants and 6% are self-employed.
That explains why a large part of the country's craft enterprises and employees in this sector are located in the southern region. These data illustrate the dynamism of the region and encourage many employers to settle in Dudelange and its surroundings.
As a result, people there are happy to live in a positive economic climateand globally enjoy a purchasing power that participates to the good health of local businesses.
You wish to set up your company in Dudelange in Luxembourg?
Download the brochure: S'installer à Dudelange.
A Dynamic City Centre for Thriving Businesses
In the city centre, many shops offer a wide variety of products and services for young and old. Restaurants, bars and cafés multiplied in harmony and animate the heart of Dudelange. And to make it even more attractive, the new "Am Duerf" area, located around the main square, offers more than a dozen shops, housing and offices on 4.400 m².
Are you looking for an apartment in Luxembourg?Dudelange "the Dynamic" cumulates many positive points for a successful installation in the Grand Duchy!
Sports, Cultural and Associative Life
A Variety of Sports Facilities
Dudelange sportsmen and women regularly make the news in Luxembourg. And there is a good reason for that! Over the years, the city of Dudelange, the capital of team sports in Luxembourg, has made it a point of honour to multiply sports facilities. The Centre sportif René Hartmann, in particular, offers residents a wide range of activities (rock climbing, swimming, etc.).
Among the different sports facilities, residents can also enjoy gymnasiums, football stadiums, multi-sport fields, and a skate park.
Are you an amateur or professional sportsman looking for a rental in Luxembourg?In Dudelange, you will find nearly 220 clubs and associations.
Culture at the Heart of the City
The regional cultural centre "opderschmelz", the contemporary art centre Dominique Lang, the municipal museum, the regional public library… In Dudelange, there is no shortage of cultural infrastructures!
You want to buy an apartment in Luxembourgin a real cultural city? Discover what Dudelange has to offer on thededicated section of the dudelange.lu website>
Events Throughout the Year
From the Celtic music festival "Zeltik", to the international festival "Like a Jazz machine", or the Music Festival, the medieval festival "Butschebuerger Buergfest" and the medieval Christmas market, many events are organised all year round in Dudelange and they attract thousands of tourists from Luxembourg and elsewhere.
In other words, if you are a culture-lover looking for a house in Luxembourg, Dudelange is for you!
A Fulfilling Environment for Children
Dudelange is truly a welcoming city for families looking for land for sale in Luxembourg. Between the crèches and the maisons-relais, the youthcentre, the infant and primary schools, the Nic-Biever high school, all the associations as well as all the activities offered for children and teenagers, Dudelange is a real paradise for parents and their cherubs.
Looking for a place to rent in Luxembourg for your family?Consult the apartments for rent in Luxembourg and in Dudelange.
And What About Tomorrow? Heading for a Transition That Respects Nature and Heritage
Dudelange intends to continue its metamorphosis to the great delight of its inhabitants but also of all people looking for an apartment or a house in Luxembourg.
Future projects include, for example, the new neighborhood under constructionin "Lenkeschléi". It is intended to meet the growing demand for housing. It will include new school facilities, a gymnasium, a playground for kids and many green spaces.
This year 2019 is also the year when works began in the "Neischmelz" eco-neighbourhood, located near the existing Schmelz and Italy districts. Under construction, this 36-hectare of zero-emission land will boast a thousand units to house about 2.400 inhabitants as well as green and leisure spaces. This 10- to 15-year project aims to continue the city's efforts in terms of sustainable development.
Living in Dudelange in Luxembourg
In one word? If you are looking for anapartmentto rent in Luxembourgor for a villa for sale in Luxembourg, think of this "dolce vita" heaven, think of Dudelange. And if you have decided to live in Dudelange, here are some figures on housing provided by the STATEC and the Observatoire de l'habitat. This information is based on transactions from July 2018 to June 30, 2019.